Part of our disruptive new offering of micro-minuscule luminaires, NICK is the world's smallest recessed directional luminaire specific for grazing of walls and stair-treads. For indoor + outdoor environments, both dry and IP67. Patent Pending.

Consisting of precision, hand-milled grade-5 titanium, NICK is suitable for IP67 installation in any application, including extreme environments such as marine, arctic, and desert conditions. Suitable for recessed installation into horizontal or vertical surfaces of stone, wood, concrete, drywall, etc. for sliver-illumination of pathways, walkways, hallways, stairwells, poolside, pond-side, kitchen & bath for projects in the verticals of hospitality, residential, restaurant, civic, institutional, religious, and parks & recreation.

Because of its tiny size - with fixture dimensions of only 0.75" (21mm) diameter and only a startling 500 microns in elevation, with a micro-minuscule aperture of 2mm x 9mm. Contact us for available trim kit for concrete installation.

Depending upon your orientation of NICK, you can achieve a 27º or 125º beam angle. NICK offers incredibly high light output from a minuscule form factor, and is dimmable. When off, it is nearly imperceptible - a tiny nick in the wall.

The heart of NICK is a groundbreaking design that features a fully-integrated, water-resistant, high-output, dimmable LED+optics module that has been tested at one meter of full water immersion and temperatures to -17ºC, eliminating the need for gaskets that can crack and fail. This fixture is not intended for IP 68 use.

Available with MP light engine (NKMPXX):
Multi-protocol dimming, 94lm, 120mA @ 12vDC
2700º, 3000º, 3500º, 5000º Kelvin

Available with LP light engine (NKLPXX):
Non-dimmable, 19lm, 80mA @ 12vDC
2700º, 3000º, 3500º, 5000º Kelvin, AMBER (595nm)

IP67. 5-year warranty.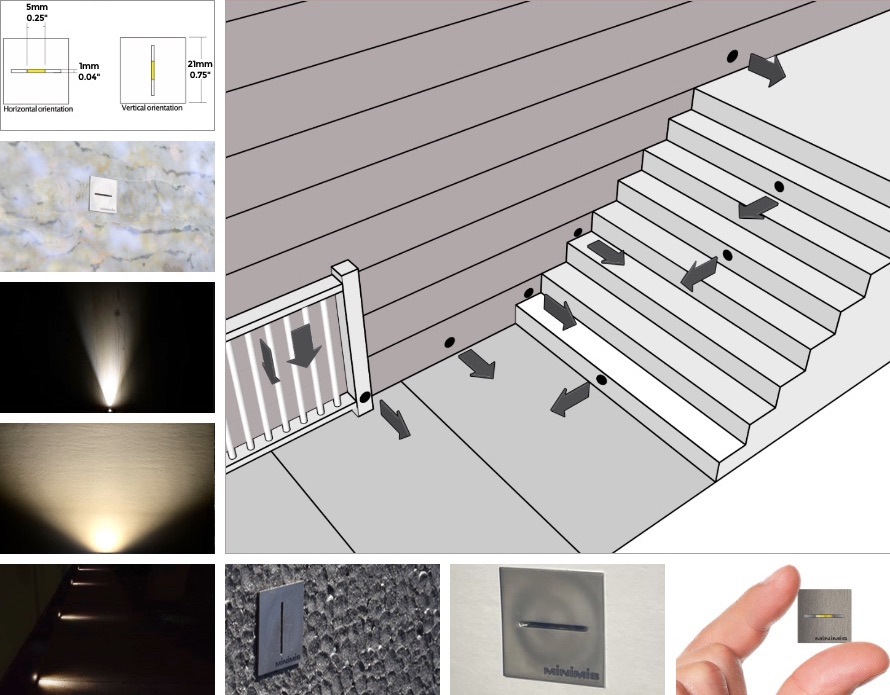 For more images, visit our
images page here >

PRODUCT IMAGES >
INSTRUCTIONS >
CUT SHEET >
POWER SOLUTIONS >
SKETCHUP + REVIT FILES >