The world's smallest landscape luminaire, THUMBTACK LP is a groundbreaking landscape luminaire that features the smallest fixture and aperture size on the market, with fixture diameter smaller than an American dime of 5/8" (16mm) diameter, and an aperture of less than 3/8" (8mm) diameter.
THUMBTACK LP is tiny and unobtrusive, suitable for decorative and accent lighting and can be placed virtually anywhere, into grass, earth, mulch, hardscape, container planters, small shrubs, and more.
Despite its minuscule form-factor, THUMBTACK LP is powerful enough to accent a single-storey wall, yet so small as to virtually disappear into your landscape. Perfect as an alternative to the giant, clunky plastic or metal landscape lights that are prevalent. The fixture consists of nylon and hand-milled titanium, making THUMBTACK LP virtually indestructible. THUMBTACK LP installs easily into grass, mulch, earth, or hardscape. Ideal as a well-light, wall-grazer, pathway lighting, entranceway marking, in-tree lighting, and inner-glow lighting for plants.
THUMBTACK LP is available in two models: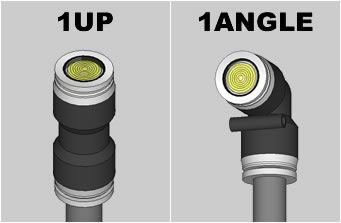 THUMBTACK LP is suitable for any environment up to and including IP67, from desert, to arctic, to high rainfall zones, to pool-side, luxury marine, and seaside environments, and is great for installing right inside planter boxes and pots. Featuring a minuscule 8mm x 8mm square aperture and custom-crafted PMMA lens for optimum throw distance, THUMBTACK LP is a tiny-aperture pin-prick of light that virtually disappears, once turned off, unlike standard-sized recessed luminaires.
THUMBTACK LP has been engineered to be fool-proof to specify, easy to install, and offer rock-solid performance. Instead of employing confusing LED drivers, which require confusing and unstable serial wiring schemes, THUMBTACK LP has been designed to work - flicker-free - on standard, readily-available 12 volt DC (constant voltage) power, in a parallel wiring scheme, for any mains environment, from 120V up to 277V. Consumes a minuscule 83 milliamps (0.08 amp) at 12vDC. Fixture housing is black in color, which can be hand-painted to suite your palette. Titanium stake is removable, to facilitate installation into wood, stone, concrete, conduit, or affixed to tree branches.
Ships worldwide.
Compatible with IRIS LP, QUANTUM LP, and DOT LP installations
LED Power consumption: 1 watt at 83 milliamps (0.083 amp)
MINIMIS 61° PMMA lens is optically superior to glass.
Color temperature: 3000&deg Kelvin≈ +/-50ºK, CRI >95
5-year warranty
Contact us for details.
Light effect can vary, depending upon color of surface, distance from surface, and ambient lighting.
IP Rating: IP 67. The MINIMIS patent-pending design features a fully-integrated LED+lens (or LED+reflector) module that is resistant to full water immersion and temperatures beyond 0ºF (-17ºC), and thus is suitable for pool-side lighting, marine, and pond areas. However, our LP-series luminaires are not approved for IP 68 (permanent submersion (i.e.: installation inside ponds, fountains, pools, or any body of water - occupied or unoccupied)).

PRODUCT IMAGES >
INSTRUCTIONS >
CUT SHEET >
LP POWER KIT >
SKETCHUP + REVIT FILES >
PHOTOMETRICS >